After wrapping up 2021 with lots of ups and downs, our favorite bands have already settled down to hit to roads again to meet their beloved fans all around the world. So, we wanted to gather all metal and rock music festivals in 2022 chronologically for you to see properly.
Before we see all 2022 metal and rock music festivals, we also want to remind you that most of the bands have already started touring or they are just about to. For starters, Tool has already kicked off its 2022 tour, marking its first live performance after its trek was forced to be called off due to the pandemic in March 2020, while also Foo Fighters have already started touring to meet its fans, despite some unfortunate events they also had to go through.
On the other side, Guns N' Roses, Alice Cooper, System of A Down, Korn, Iron Maiden, Deftones, Gojira, Metallica, Slipknot are also among many other names we can't even have the time to mention right now, hitting to the world both in the US and worldwide, to finally reunite their fans, as well. And many of them will also be headlining famous annual music festivals on their way, while some of those bands are Metallica, Foo Fighters, Tool, and many more.
So, let's continue and see metal and rock music festivals ahead of us in 2022, listed in order for you to track down easily.
January 15, at The Forum, Los Angeles, California
Lineup: Twenty One Pilots, All Time Low, Maneskin, Kings Of Leon, Imagine Dragons, and more
January 22-27, at Galveston, Texas/Costa Maya, Mexico/Cozumel, Mexico
Lineup: Lamb of God, Mark Morton, and more
February 9-14, at Miami, Florida/CocoCay, Bahamas/Cozumel, Mexico
Lineup: Alice Cooper, Black N Blue, Buckcherry, and more
February 10-12, at Crypto.com Arena, Los Angeles, California
Lineup: Machine Gun Kelly, Green Day, and more
January 12-13, at O2 Academy, Birmingham, United Kingdom
Lineup: Napalm Death, Unleashed, and more
February 26-27, at Tempe Beach Park & Arts Park, Tempe, Arizona
Lineup: Foo Fighters, Tame Impala, and more
March 19-20, at Foro Sol, Mexico City, Mexico
Lineup: Limp Bizkit, Pixies, Gary Clark Jr., and more
March 19-20, at Raymond James Stadium Grounds in Tampa, Florida
Lineup: Green Day, The Lumineers, and more
March 25-27, at Campo Golf Briceno, Sopo, Cundinamarca, Columia
Lineup: Foo Fighters, The Strokes, and more
March 22-23, at Espacio IDESA, Asuncion, Paraguay
Lineup: Foo Fighters, Machine Gun Kelly, Miley Cyrus, and more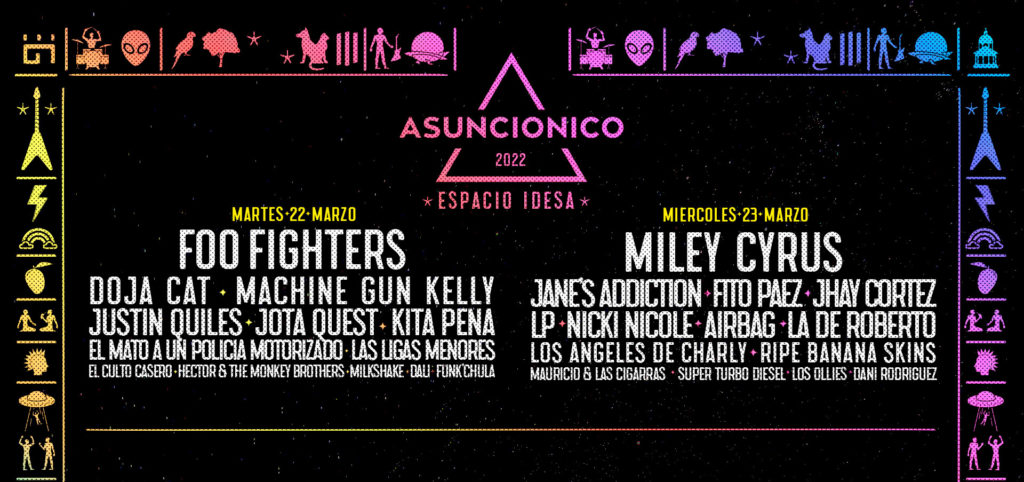 Tecate Pa'l Norte
April 1-2, at Monterrey, Nuevo Leon, Mexico
Lineup: The Strokes, Maroon 5, and more
March 18-20, at Hipodromo de San Isidro, Buenos Aires, Argentina
Lineup: The Strokes, Machine Gun Kelly, Foo Fighters, and more
March 18-20, at Parque Bicentenario Cerrillos, Vitacura, Chile
Lineup: Foo Fighters, The Strokes, Machine Gun Kelly, Jane's Addiction, and more
March 25-28, at Autodromo Jose Carlos Pace, Sao Paulo, Brazil
Lineup: The Strokes, Machine Gun Kelly, Foo Fighters, and more
January 28-30, at 1720, Los Angeles, California
Lineup: Mortician, Autopsy, Sacramentum, and more
April 29-May 1, at Central Park, Atlanta, Georgia
Lineup: Green Day, Nine Inch Nails, My Morning Jacket, and more
May 6-8, at Merriweather Post Pavilion, Columbia, Maryland
Lineup: Kix, Tom Keifer, Tesla
May 19-22, at  Daytona International Speedway, Daytona Beach, Florida
Lineup: KISS, Korn, Megadeth, Guns N' Roses, Shinedown, Foo Fighters, Halestorm, and more
May 20-22, at The Beach, Gulf Shore, Alabama
Lineup: Fall Out Boy, Halsey, Tame Impala, Blondie, and more
May 21, at BB&T Pavilion, Camden, New Jersey
Lineup: Disturbed, The Pretty Reckless, Royal Blood, and more
May 27-29, at Harvard Athletic Complex, Boston, Massachusetts
Lineup: Foo Fighters, Rage Against the Machine, and more
May 27-29, at Choctaw Stadium, Arlington, Texas
Lineup: I Prevail, Parkway Drive, The Ghost Inside, Simple Plan, Sum 41, and more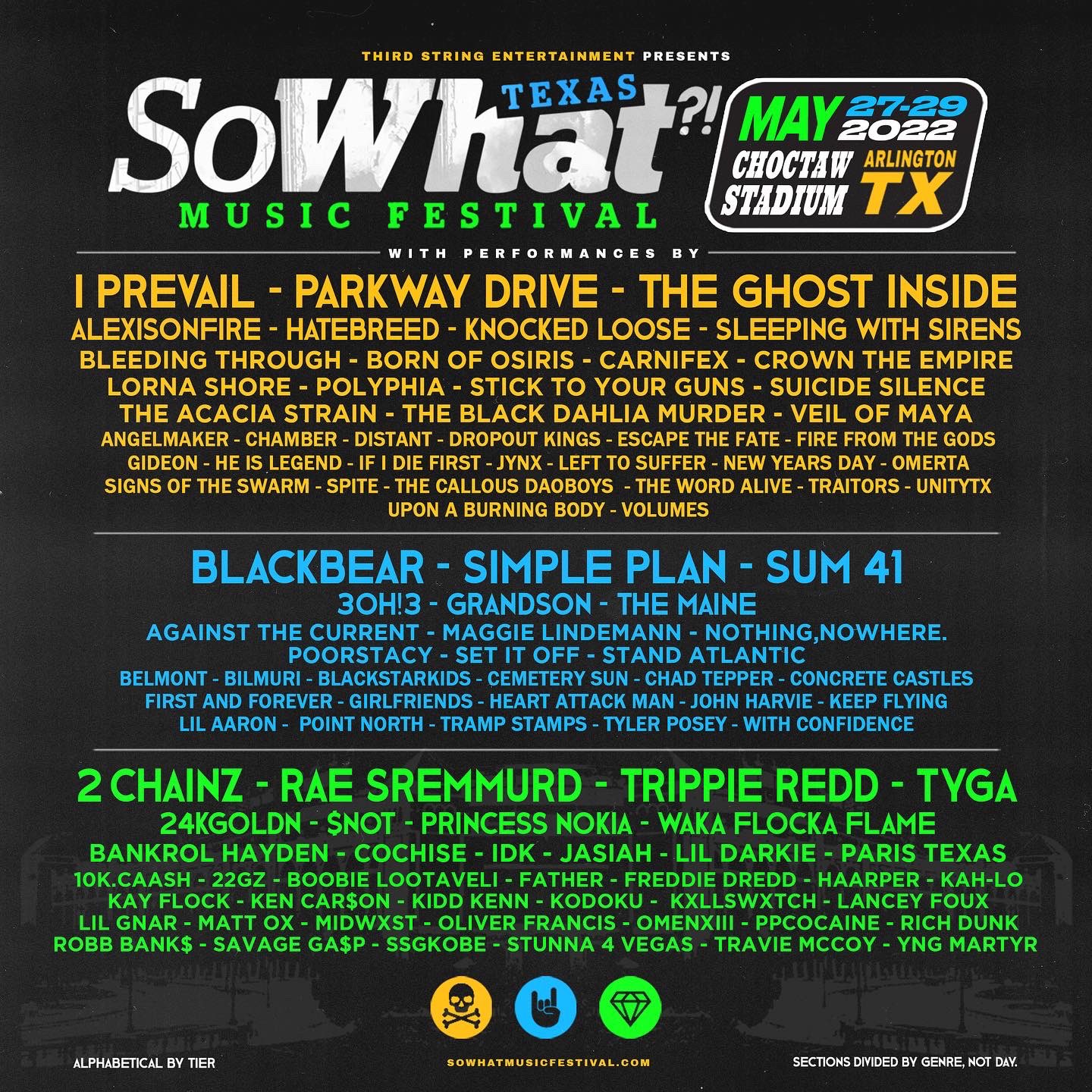 June 4, at Temple Newsam, Leeds, England
Lineup: Bombay Bicycle Club, Nothing But Thieves, and more
June 3-5, at Nurburg/Eifel, Nurburing, Germany
Lineup: Green Day, Muse, Volbeat, and more
June 3-5, at Zeppelinfield, Nurnberg, Germany
Lineup: Volbeat, Green Day, Muse
June 8-11, at Norje, Solvesborg, Sweden
Lineup: Gun N' Roses, Volbeat, In Flames, and more
June 9-11, at Interlaken Airport, Interlaken, Sweden
Lineup: Volbeat, Korn, Billy Talent, and more
June 9-12, at Pannonia Fields, Nickelsdorf, Austria
Lineup: Muse, Volbeat, Foo Fighters, Five Finger Death Punch, and more
June 10-12, at Tempelhof Airport, Berlin, Germany
Lineup: Muse, The Strokes, and more
June 10-12, at Donington Park, Castle Donington, United Kingdom
Lineup: KISS, Iron Maiden, Megadeth, Biffy Clyro, Korn, Deftones, and more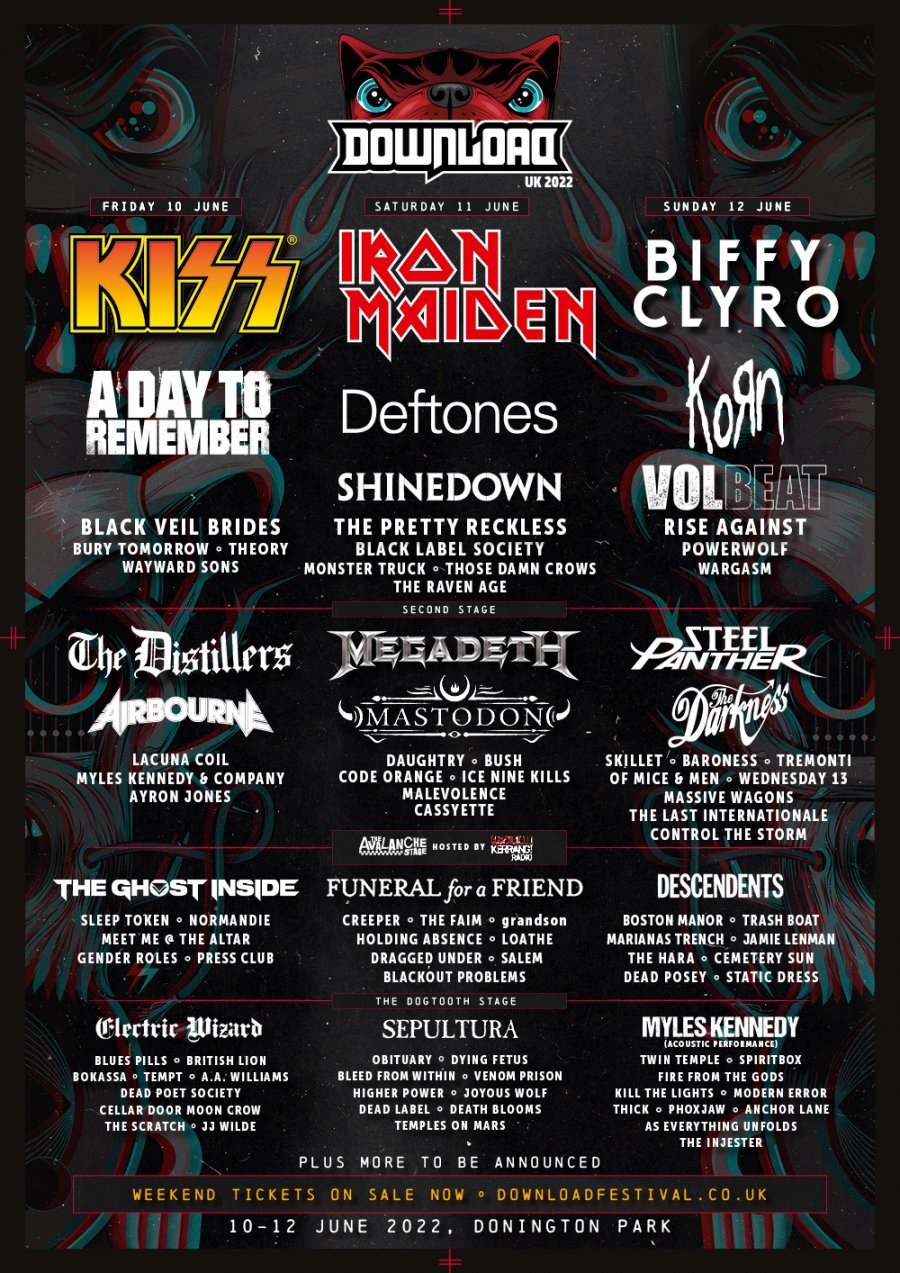 June 15-18, at Festival Park, Hradec Kralove, Czech Republic
Lineup: Green Day, Biffy Clyro, Royal Blood, Fall Out Boy, and more
June 16-19, at Festivalpark Stenehei, Dessel, Belgium
Lineup: Iron Maiden, Volbeat, Avenged Sevenfold, Within Temptation, Judas Priest, Korn, Five Finger Death Punch, Aerosmith, Deep Purple, and more
June 17-19, at Megaland, Landgraaf, Netherlands
Lineup: Metallica, Pearl Jam, Imagine Dragons, Twenty One Pilots and more
June 17-19, at Eichenring, Scheessel, Germany
Lineup: The Killers, Twenty One Pilots, Rise Against, Kings Of Leon, and more
June 17-19, at take0off Gewerbepark, Neuhausen ob Eck, Germany
Lineup: Kings Of Leon, Rise Against, The Killers, Twenty One Pilots, and more
June 17-26, at Clisson, France
Lineup: Deftones, Faith No More, Avenged Sevenfold, Scorpions, Nine Inch Nails, Guns N' Roses, Metallica, and more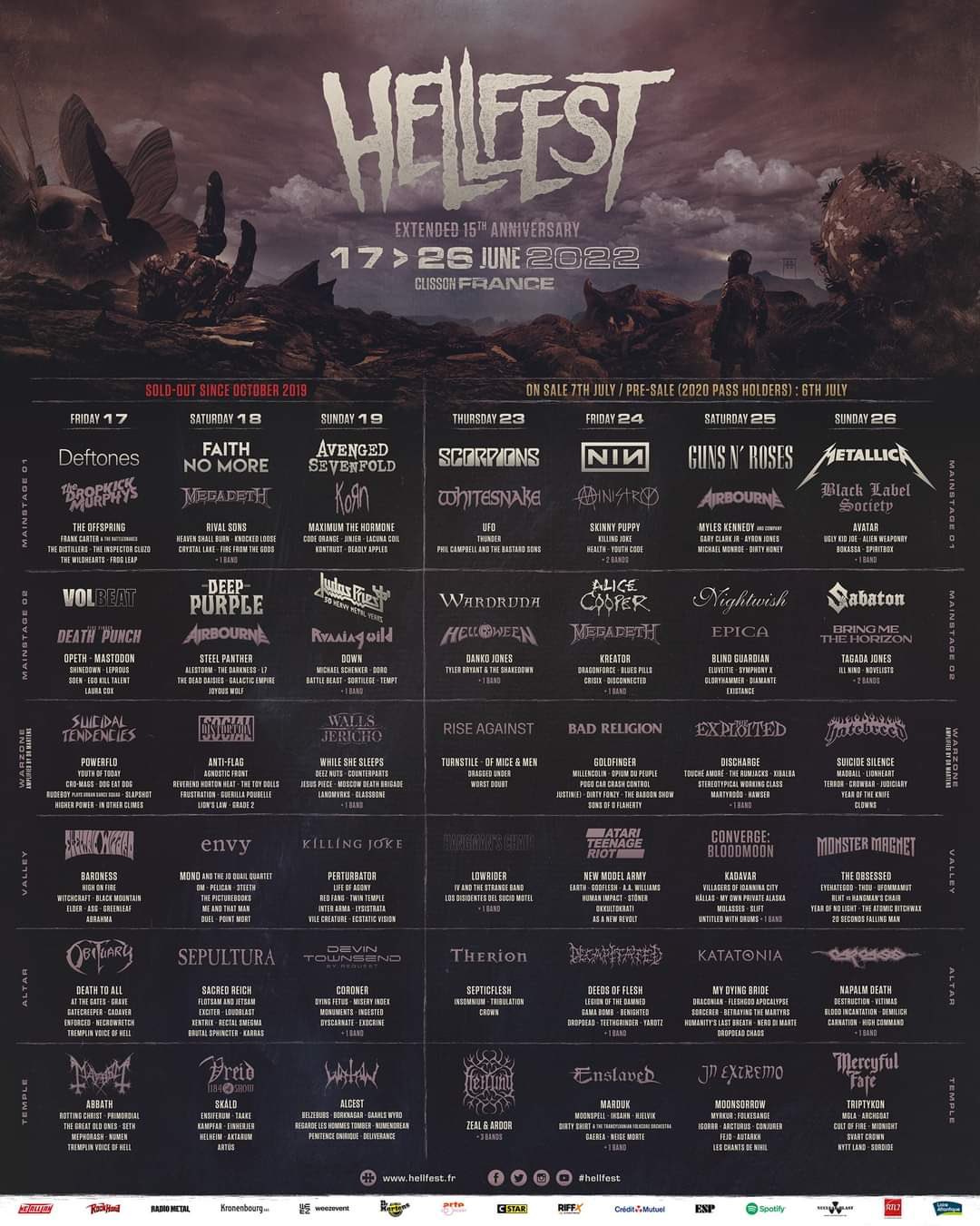 June 18-19 + June 25-26, at Bela Vista Park, Lisboa, Portugal
Lineup: Foo Fighters, and more
June 20-22, at Jarun Lake, Zagreb, Croaita
Lineup: The Killers, Deftones, and more

June 22-25, at Sopron, Hungary
Lineup: Muse, The Killers, Bring Me The Horizon, Sum 41, and more
June 24, at Hockenheimring, Germany
Lineup: Metallica, Five Finger Death Punch, Sabaton, and more
June 28-July 10, at Clifton Square, Lytham St Annes, England
Lineup: Snow Patrol, The Strokes, and more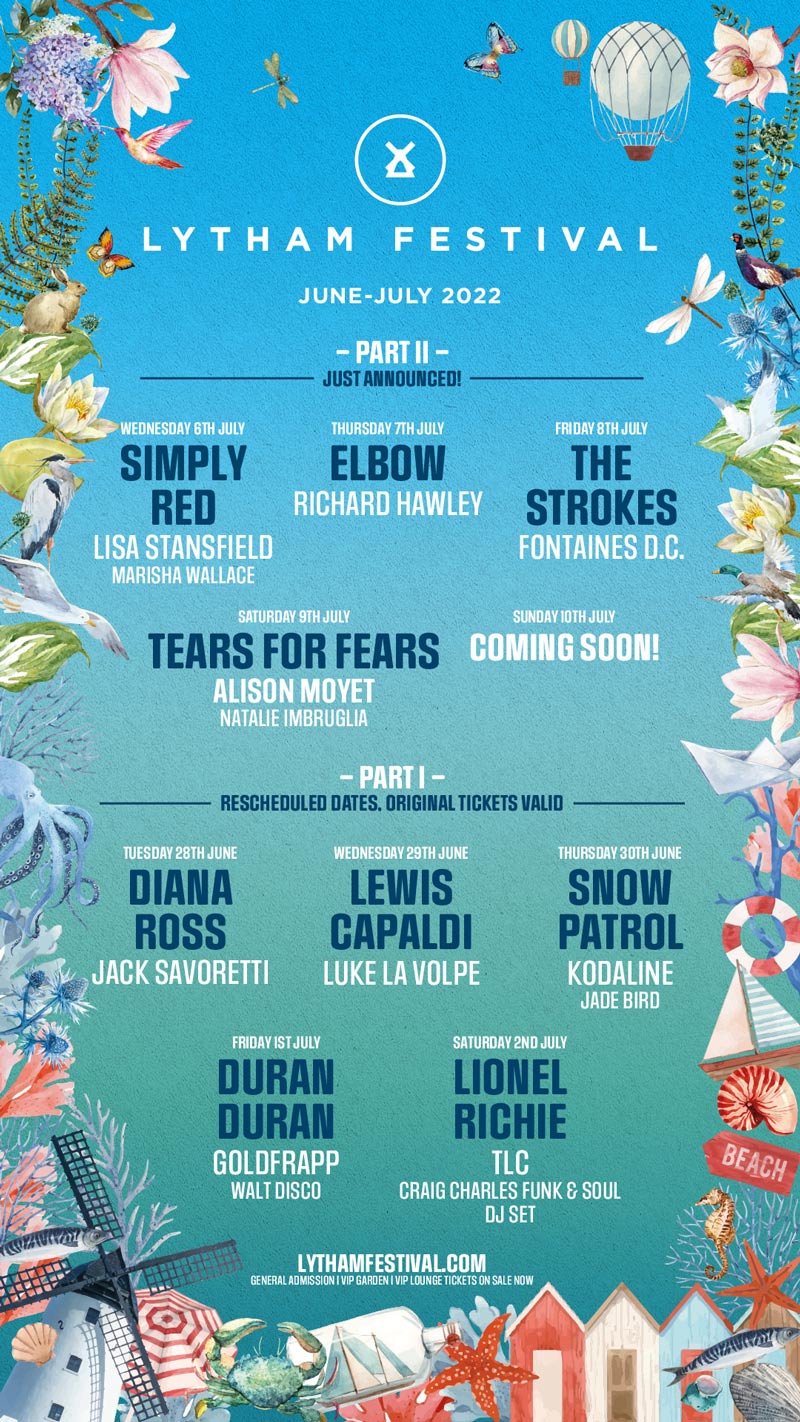 June 29-July 2, at Gdynia-Kosakowo Airport, Gdynia, Poland
Lineup: Maneskin, Twenty One Pilots, Royal Blood, and more
June 30-July 1, at Lisbon National Stadium, Lisbon, Portugal
Lineup: Megadeth, Twenty One Pilots, Avenged Sevenfold, Royal Blood, and more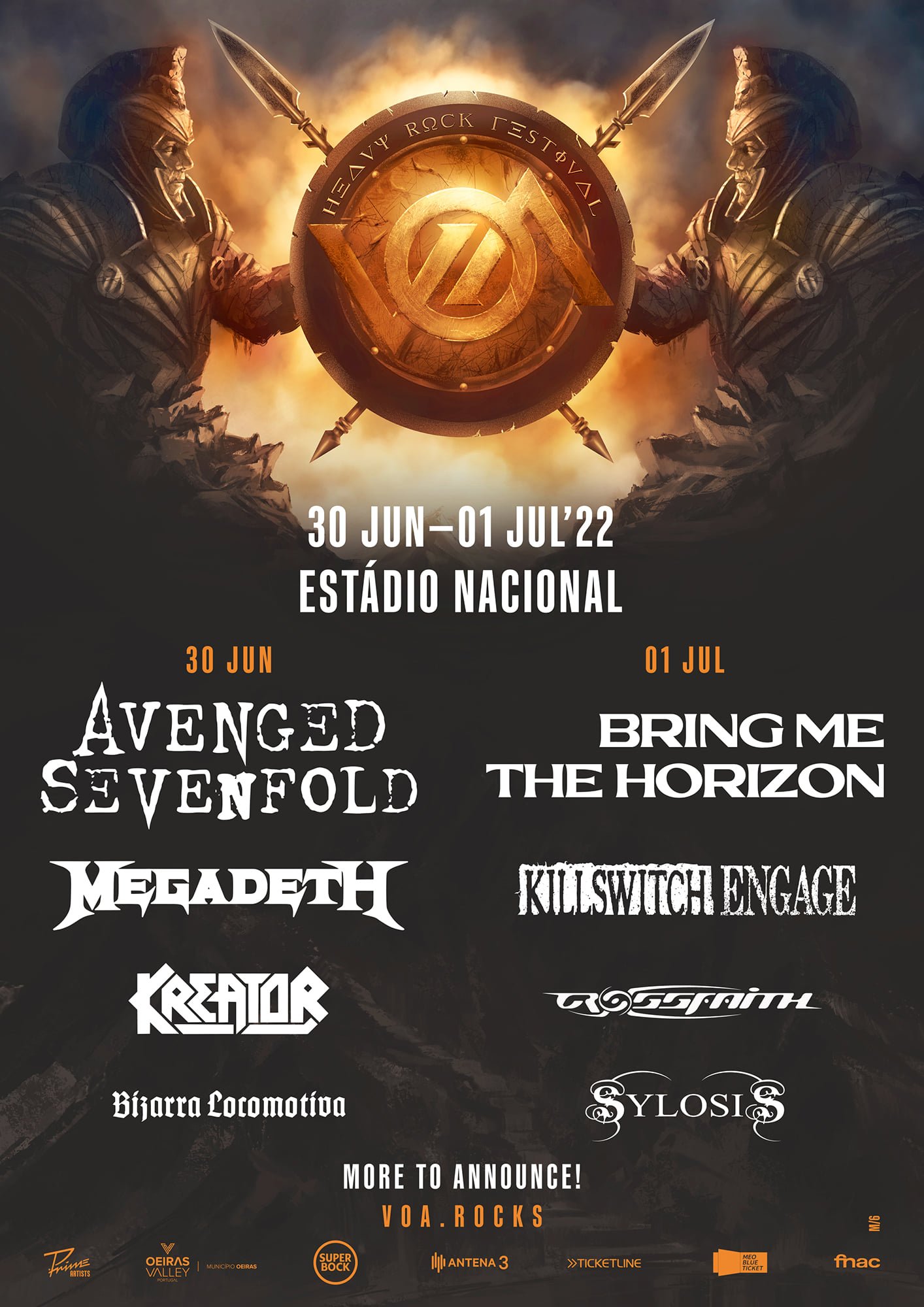 June 30-July 2, at Parc de Cam Zam de Santa Coloma de Gramenet, Barcelona, Spain
Lineup: Manowar, Nightwish, The Dropkick Murphys, Alice Cooper, KISS, Judas Priest, Megadeth, and more
July 1-3, at Ladugardsgardet, Stockholm, Sweden
Lineup: Imagine Dragons, Pearl Jam
June 30-July 3, at Festival Park, Werchter, Belgium
Lineup: Pearl Jam, The War On Drugs, Metallica, Queens of the Stone Age, Twenty One Pilots, Red Hot Chilli Peppers, and more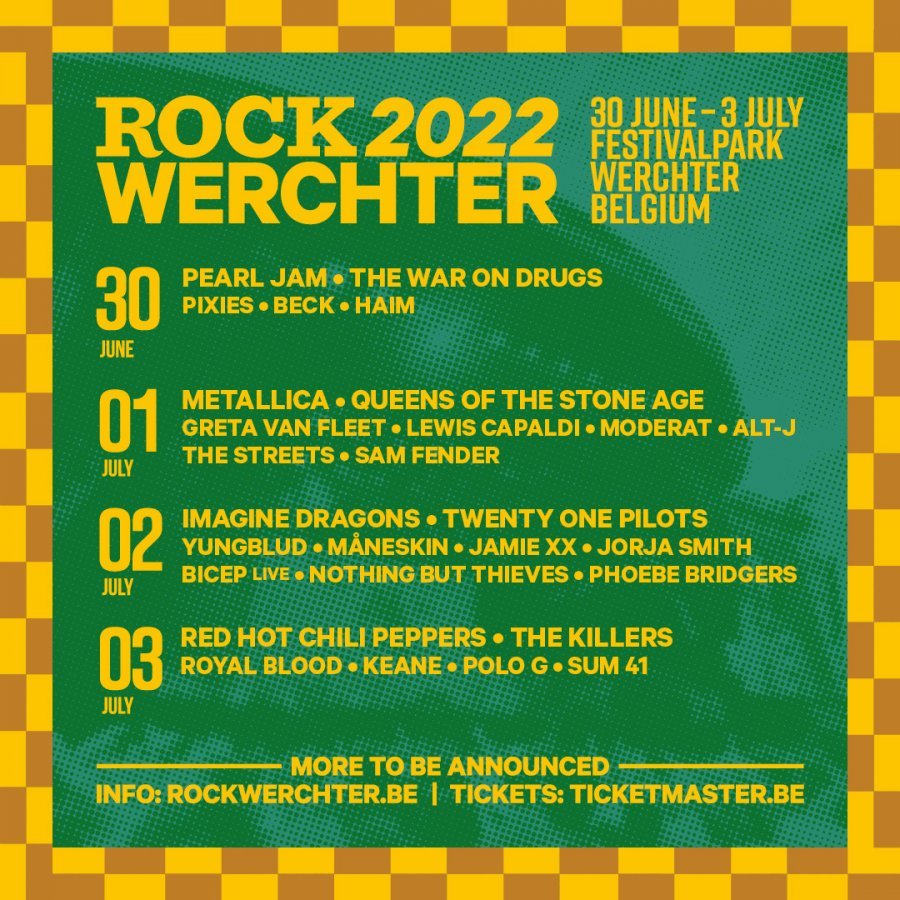 July 6-9, at Paseo Maritmo Alges, Oeiras, Portugal
Lineup: The Strokes, Metallica, Imagine Dragons, The War On Drugs, Royal Blood, and more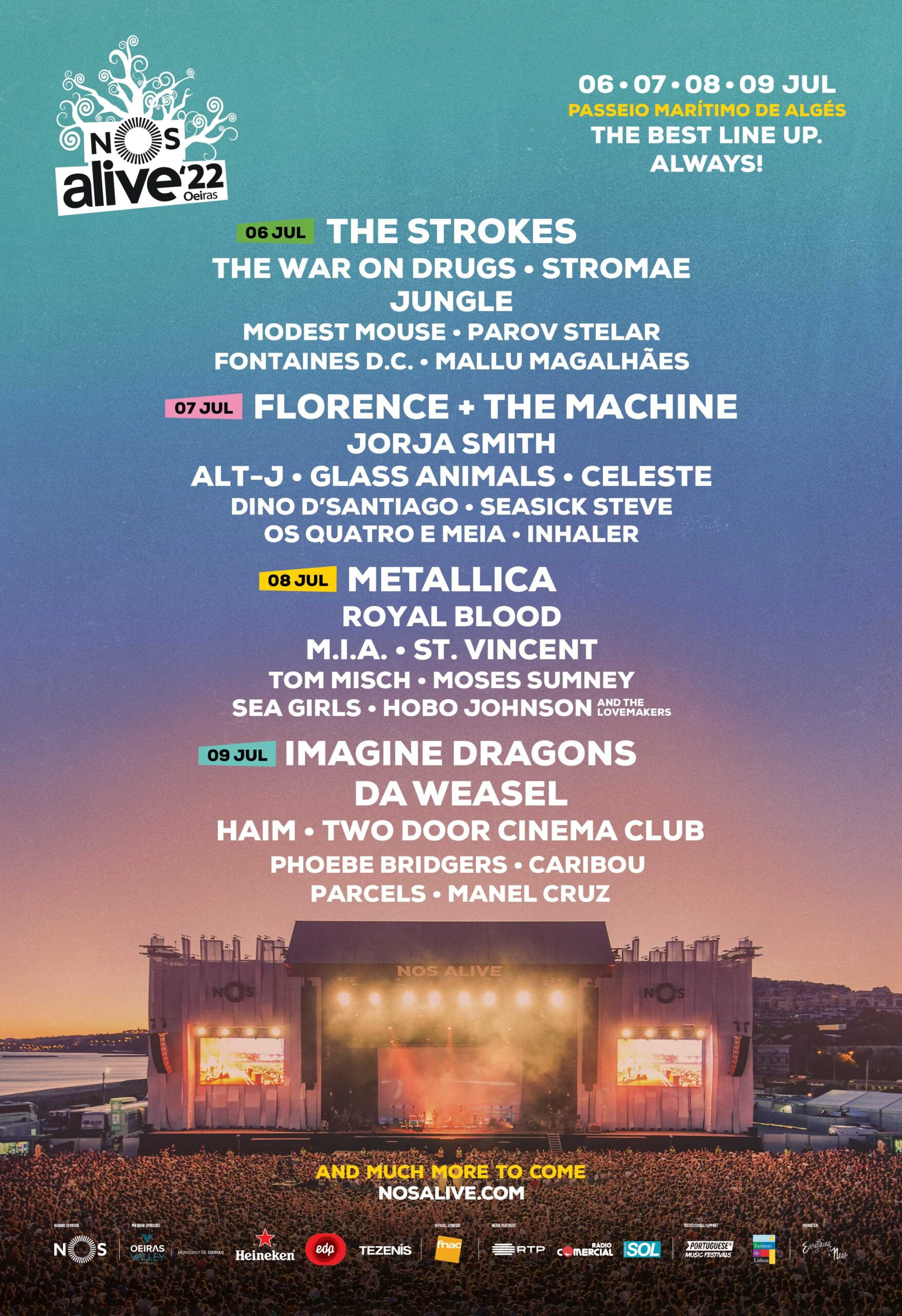 July 6-10, at Valdedebas-Ifema, Madrid, Spain
Lineup: Metallica, Twenty One Pilots, Muse, Queens of the Stone Age, Pixies, Kings Of Leon and more
July 7-10, at Chateau d'Aubiry, Ceret, France
Lineup: Queens of the Stone Age, Muse, and more
July 13-17, at Banffy Castle, Cluj, Romania
Lineup: Twenty One Pilots, Deftones, and more
July 16-17, at Hipodromo de Langchamp, Paris, France
Lineup: Imagine Dragons, Pearl Jam, and more
July 19-24, at Nyon, Switzerland
Lineup: KISS, and more
July 21-23, at Plovdiv Rowing Canal, Plovdiv, Bulgaria
Lineup: Slipknot, Sabaton, Mercyful Fate
July 22-24, at North Byron Parklands, Wooyung, Australia
Lineup: The Strokes, and more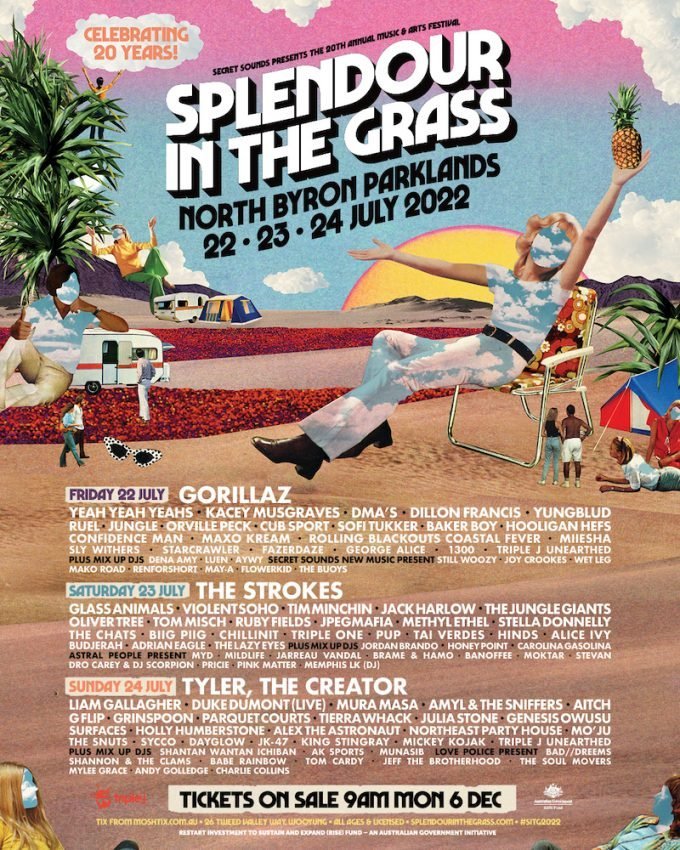 July 28-31, at Grant Park, Chicago, Illinois
Lineup: Journey, Limp Bizkit, Foo Fighters, and more
August 4-6, at Wacken, Germany
Lineup: The Lindemann, Slipknot, Judas Priest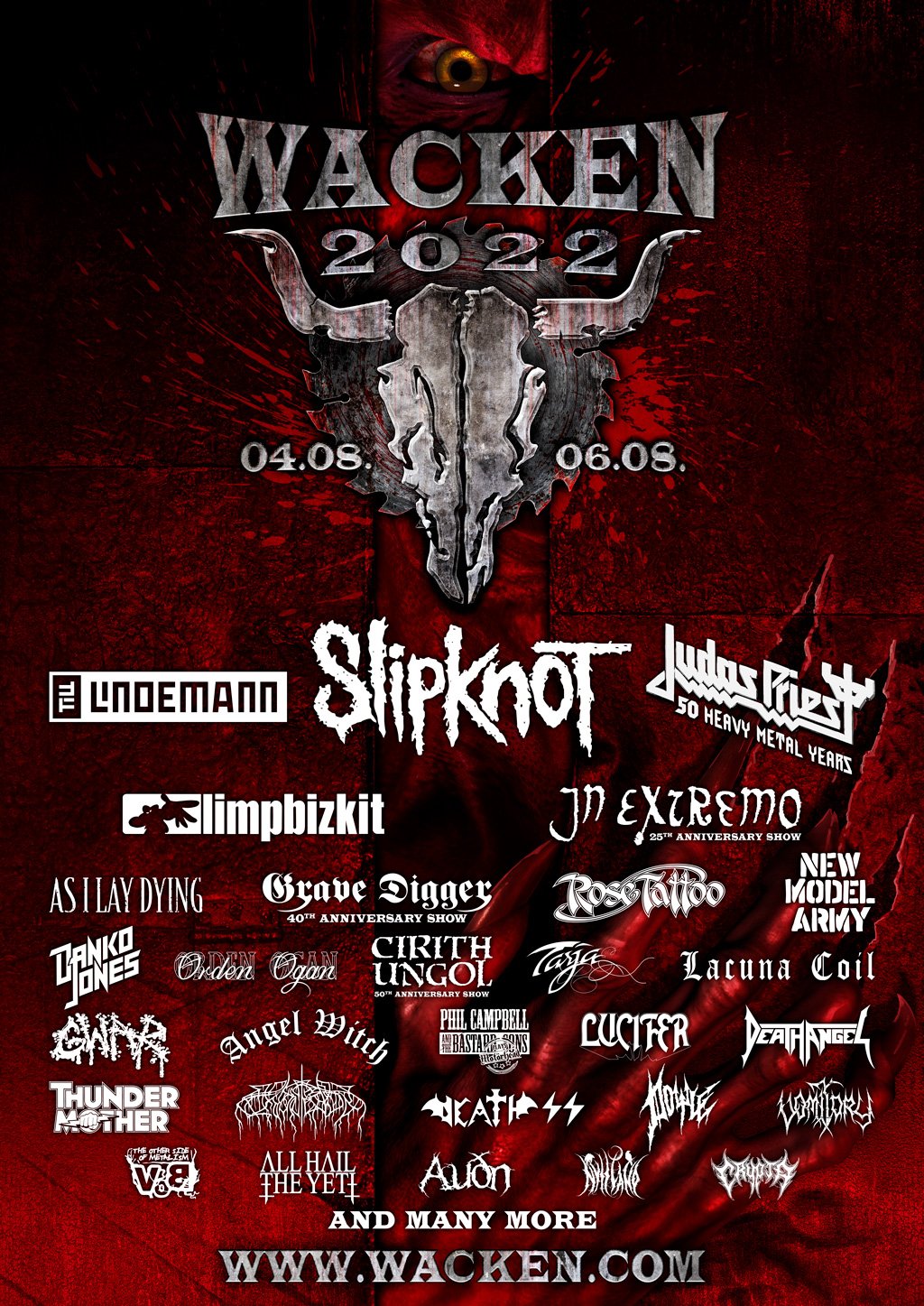 August 11-14, at Catton Park, Norwich, United Kingdom
Lineup: Mercyful Fate, Lamb of God, and more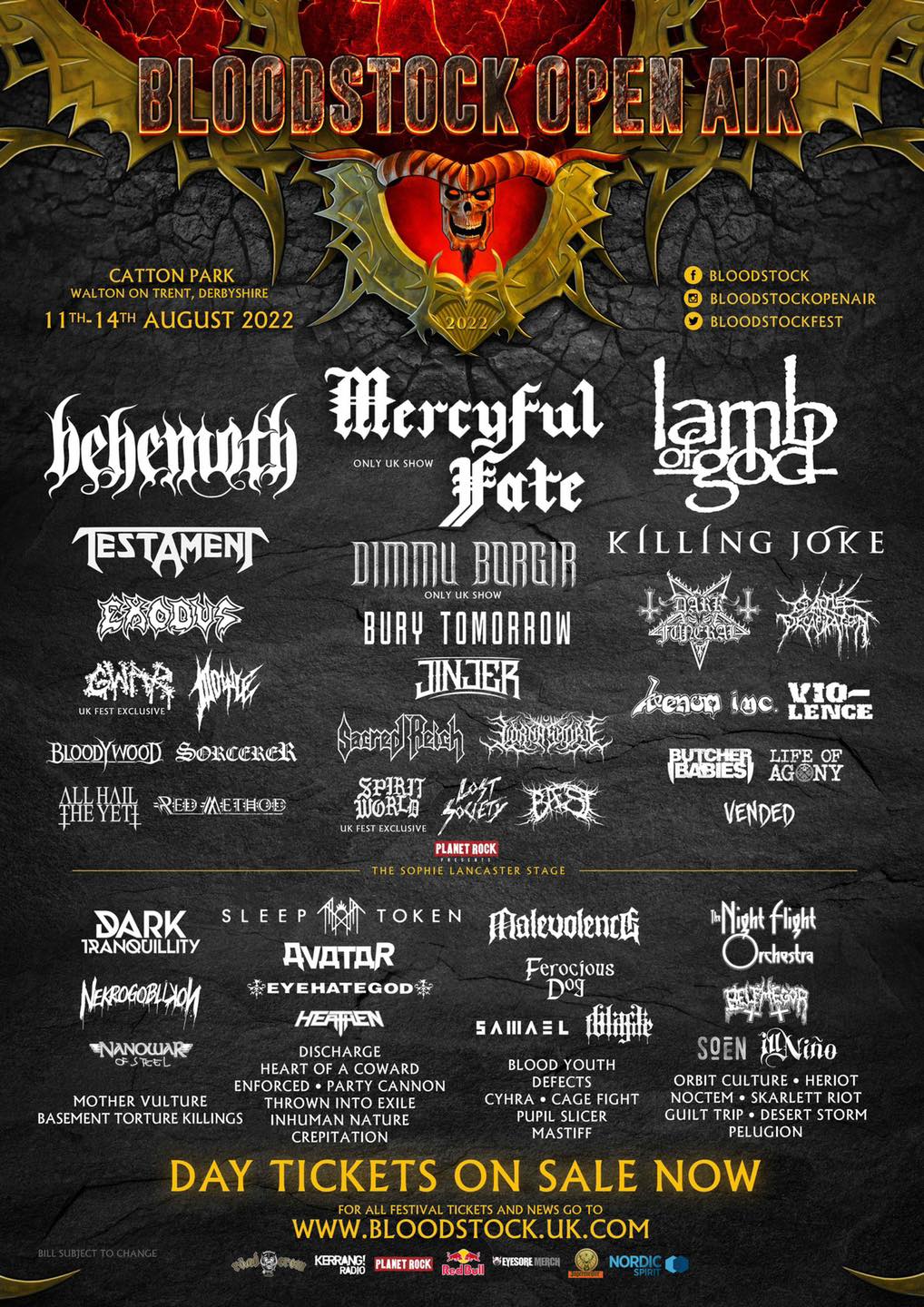 August 17-20, at Fernhill Farm, Somerset, England
Lineup: Opeth, Cult of Luna, and more
August 17-20, at Dinkelsbuhl, Bavaria, Germany
Lineup: Blind Guardian, Arch Enemy, Within Temptation, and more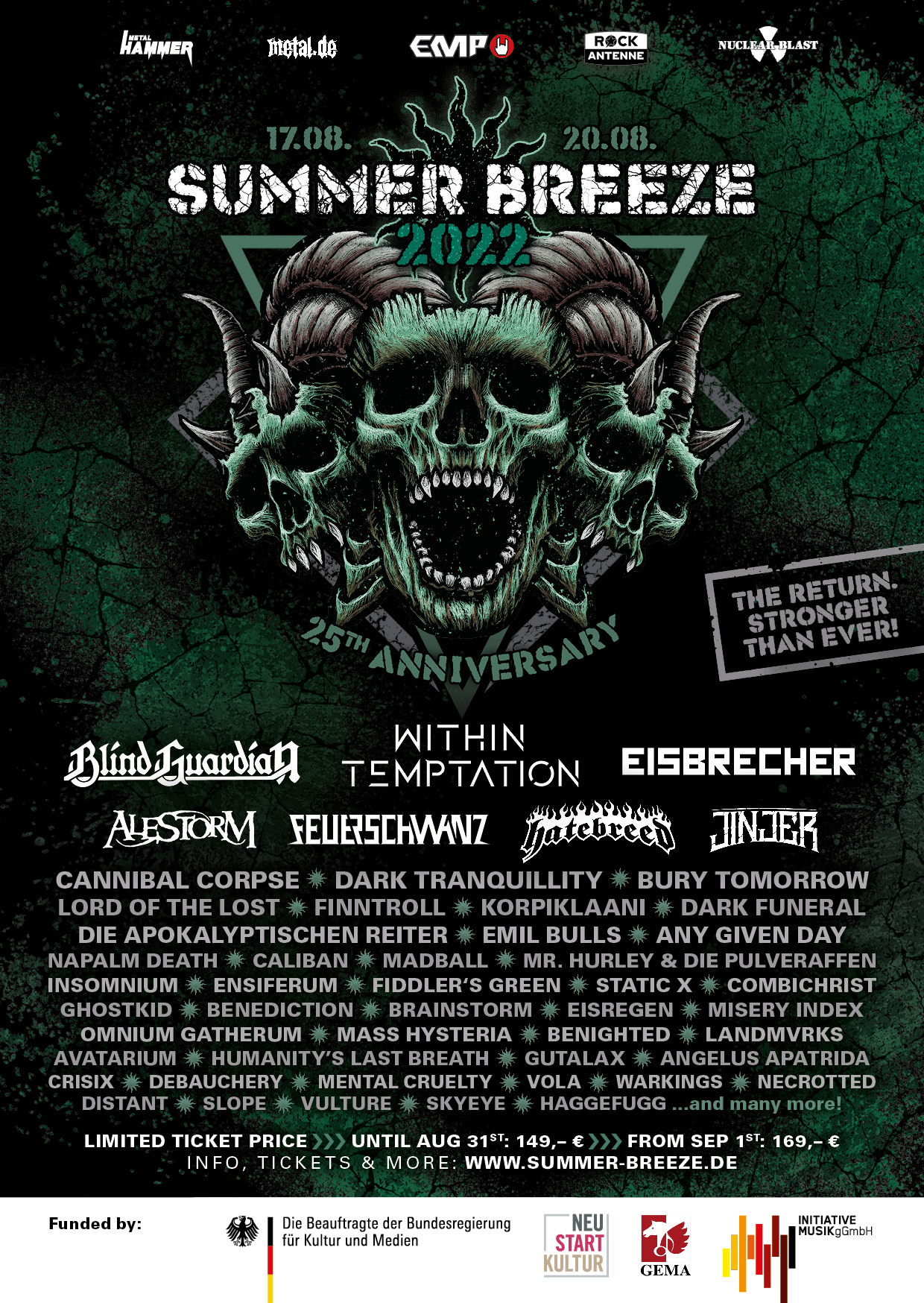 August 26-28, at Reading, England
Lineup: Bring Me The Horizon, Rage Against the Machine, Maneskin, and more
August 26-28, at Bramham Park, Leeds, England
Lineup: Rage Against the Machine, Bring Me The Horizon, Arctic Monkeys, and more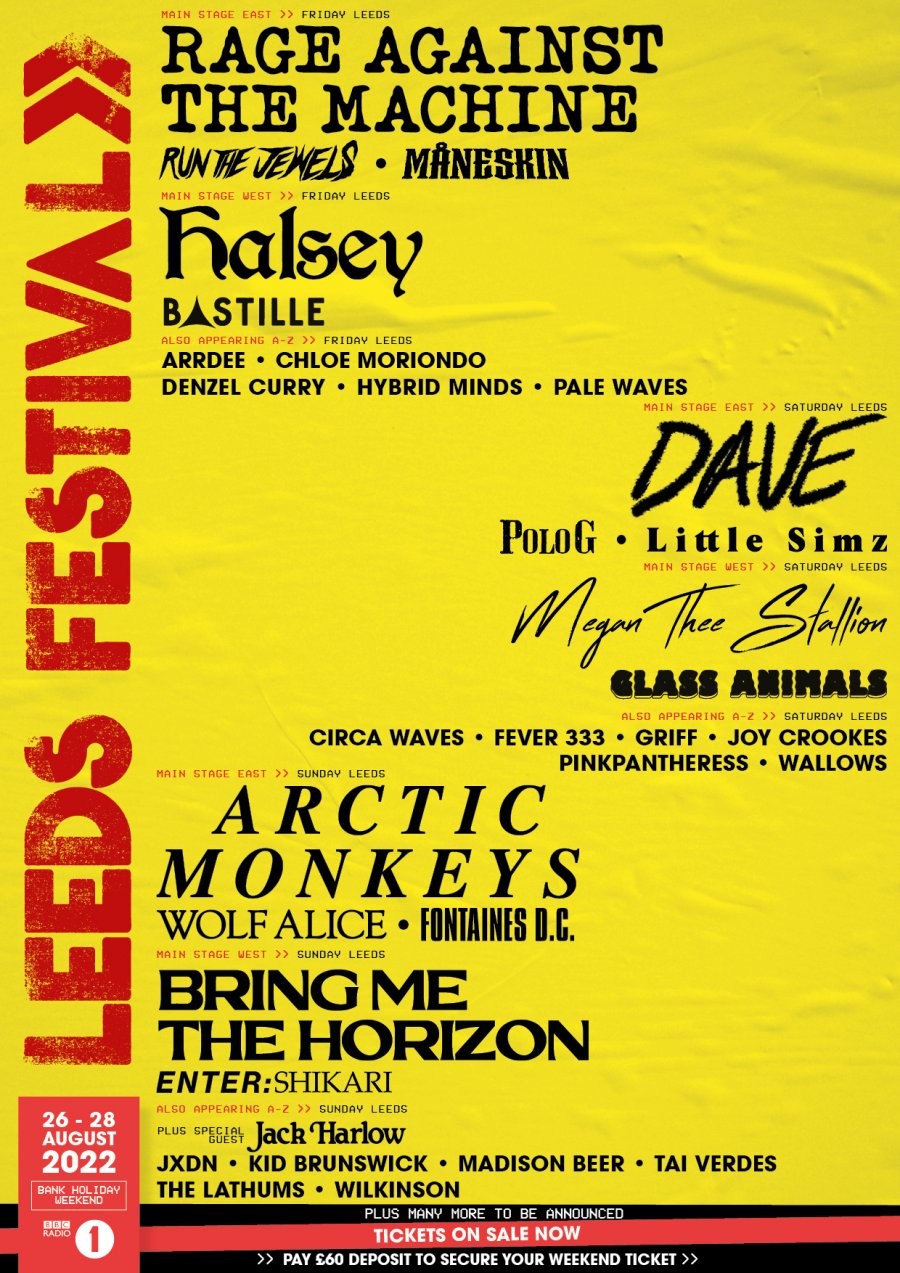 September 2-4, at Electric Ballroom, Camden, London, U.K.
Lineup: Autopsy, Hellhammer, and more
September 16-18, at Douglass Park, Chicago, Illinois
Lineup: My Chemical Romance, Misfits, and more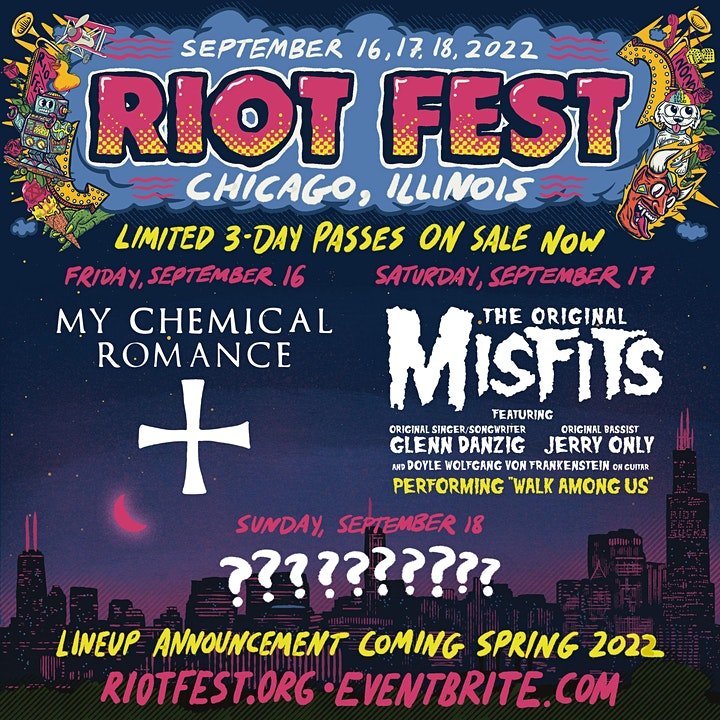 November 3-6, at Great Yarmouth, United Kingdom
Lineup: Skid Row